By Devanshi Gupta
The COVID-19 pandemic highlighted a dire need to monitor the pathogens devastating public health around the world.
In response to it, the Rockefeller Foundation (RF) funded a project, Alliance for Pathogens Surveillance Innovations (APSI) – India to upscale SARS-CoV-2 genomic surveillance in India. This involved monitoring pathogens and analyzing their genetic differences to find the origin of new variants in different parts of India. The project put the processes in place for monitoring emerging SARS-CoV-2 variants and paving the way to develop advanced surveillance and warning systems for better pandemic preparedness and prevention.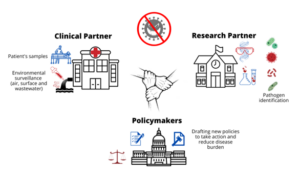 A collaborative framework of multiple stakeholders working together to build a pandemic-proof future
APSI – India Phase I of the project focussed on SARS-CoV-2 surveillance by looking at water samples from wastewater treatment plants, open drains and air samples from hospitals and houses. Now they are geared up for Phase II. Beyond COVID-19, their work will focus on surveillance of other pathogens of public health concern in India, such as directly transmissible diseases like several respiratory and diarrhoeal diseases (i.e. virus borne- Rota/Astro viruses; bacterial borne- Vibrio cholerae, Staphylococcus and others) as well as, indirectly transmissible diseases like dengue and chikungunya. Scientists will study samples of wastewater that contain many disease-causing pathogens excreted through the faeces of patients, and survey microbes in the air, as they did during COVID-19.
The APSI-India consortium
The RF-supported Indian consortium currently consists of 4 distinct clusters (Bengaluru, Pune, New Delhi and Hyderabad) and will serve as nodes for expanding disease surveillance networks to other locations and satellite centres across the country. With the expansion of new sites to nearby districts and local villages, it will be easier to monitor the differential trends of disease epidemiology, and vector prevalence in these places.



Table 1: Collaborative network for each cluster with their respective partners
This consortium has developed clinical collaborative networks with hospitals, laboratories, academic institutions and technology partners to contribute towards obtaining clinical samples, setting up advanced surveillance platforms and incorporating microbial genome sequencing, wastewater-based detection and surveillance, enhanced bioinformatics, data analytics, and sharing pipelines.
Role of different partners of APSI-India
Phase II will have significant involvement of research, clinical and technology partners to work with each other.
The clinical partners will work towards establishing pathogen surveillance in patients with infectious diseases to help correlate with the data obtained from environmental and wastewater surveillance.
The research partners will utilize DNA/RNA-next-generation-sequencing-based approaches for capturing the existing diversity of pathogens in a sample (clinical/environmental). The collected data will be analyzed across multiple parameters to build a model for specific disease spread such as the host's gender and age, the pathogen's genetic diversity and transmission cycle, the environment's anthropogenic disturbance, and levels of vector load.
The technology partners are expected to help develop low-cost molecular diagnostics and point-of-care devices, reagents, and kits for creating a disease surveillance network. This will allow better documentation and analysis of the scale of pathogenic infections and disease spread.
Antimicrobial Resistance
Along with infectious disease surveillance, there is a need to study the crisis raised by anti-microbial resistance (AMR). WHO has identified India as the hotspot of emerging antibiotic resistance owing to the excessive use of antibiotics in both farming animals and plants, and among humans.
In this project, the scientists will monitor additional locations for sampling such as hospital outlets. The partnering hospitals will provide both samples, from patients and their drainage systems to map disease and AMR burden.
Molecular bio-techniques like whole-genome sequencing-based approaches will be developed for detecting AMR genetic elements present in the hospital and environmental bacterial isolates. The development of dedicated PCR amplicon sequencing for routine surveillance of selected AMR genetic elements in hospital and environmental samples will also be performed.
Connecting with stakeholders
While the ongoing efforts to mitigate the prevalence of infectious pathogens in the ecosystem is happening, it is equally important to educate and inform people about these efforts. For this, there will be outreach activities, training programs and workshops for citizens, especially the young people of India, and medical students and targeted communications and discussions with policymakers to encourage more states to engage in the initiative.
APSI will partner with the Superheroes Against Superbugs (SaS) initiative for AMR outreach. In addition, each participating institute will deploy its science communication vertical towards the cause.
Through these partnerships, the APSI-India initiative aims to set up comprehensive surveillance of pathogens in selected parts of the country. This would be the first step for disease control and elimination. The analyses of their load and variants would assist in enabling an action against them via the right technologies as well as policies.
APSI-India initiative aims to set a framework for multiple stakeholders to come together, address a commonly identified problem and work together towards responding effectively to existing challenges and future outbreaks.
---