Antimicrobial resistance (AMR) poses a significant challenge to global public health. However, governments worldwide, including those of Kerala, Delhi, and Madhya Pradesh in India, the United Kingdom, the Netherlands, and Ghana, have devised innovative solutions to the problem. This piece aims to highlight the urgency of addressing this silent pandemic and showcase promising initiatives that offer a hopeful outlook for the future.
In 2017, the Indian Central Government launched the National Action Plan on Antimicrobial Resistance (NAP-AMR). The NAP-AMR aims to enhance understanding of antimicrobial resistance, strengthen surveillance, and promote the rational use of antibiotics. A significant milestone of this plan was the 2019 ban on the use of colistin, an antibiotic used for promoting growth in animals. Alongside this, the Red Line Campaign was initiated to clearly mark prescription-only antibiotics, emphasizing the critical need for proper medical guidance before consumption. Additionally, a special category of prescription-only drugs known as Schedule H1 were introduced in 2014 to regulate the sale of certain antibiotics. Simultaneously, individual states within India, notably Kerala, Delhi, and Madhya Pradesh, have bolstered the fight against AMR through their State Action Plans.
Lessons from Kerala: A Model State in Combating AMR
Kerala's comprehensive approach to tackling AMR includes hospital-based interventions, public awareness campaigns, and stricter regulations on antibiotic sales. These targeted initiatives have resulted in reduced self-medication, improved awareness, and better compliance with regulations.
Hospital-based Interventions: The Antibiotic Stewardship Program in Kerala mandates training for healthcare professionals, develops local antibiotic guidelines, and establishes multidisciplinary teams to review antibiotic prescriptions. These measures have significantly decreased antibiotic consumption rates.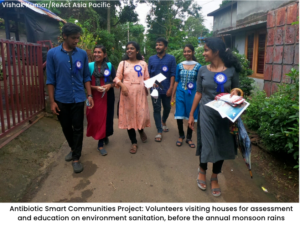 Public Awareness Campaigns: Kerala's innovative campaigns, such as "Jagratha" and "Break the Chain," educate students and the public about the importance of hand hygiene, vaccination, and the dangers of antibiotic resistance. The "Smart Antibiotics Community" project, launched by ReAct Asia Pacific in 2018, has underscored the importance of community participation in combating AMR.
Education: In collaboration with the Kerala University of Health Sciences, a new curriculum has been developed for medical students. It aims to provide uniform academic and practical training on rational antibiotic prescribing and infection prevention, equipping clinicians with strong, evidence-based infection control behaviors and the ability to independently care for patients.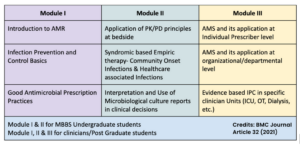 Regulating Antibiotic Sales: Kerala has strictly enforced rules prohibiting the over-the-counter sale of antibiotics and conducts routine inspections of pharmacies to ensure compliance. It has also pioneered public-private partnerships to provide affordable, quality-assured antibiotics to rural areas, reducing the prevalence of substandard and counterfeit drugs.
Animal Health Intervention: The implementation of geotagging in Kerala's veterinary field via the BHUMIKA app has boosted disease control and animal traceability, enabling precise administration of antibiotics. This technology, paired with field-level antibiotic sensitivity tests, curtails preemptive antibiotic use, a key factor in antimicrobial resistance. Data from geotagging can further aid in identifying potential disease hotspots for early intervention.
Environmental Interventions: Kerala's "Punyam Poonkavanam" project aims to preserve the ecological balance and maintain hygiene in pilgrimage places like Sabarimala. It indirectly contributes to reducing antibiotic resistance by keeping the environment clean and disease-free.
Delhi's Contributions to Tackling AMR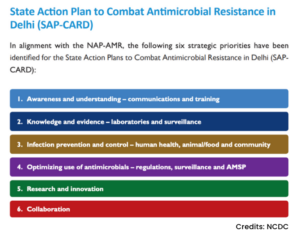 AMR Surveillance: The Delhi government has established a real-time AMR Surveillance Network that collects and analyzes data from laboratories across the city. This system allows for timely recognition of emerging resistance patterns and helps to inform public health responses and policy-making. The state has utilized public-private partnerships to increase capacity for surveillance.
Education and Awareness: In order to instill an informed perspective on AMR and antibiotic stewardship, Delhi has introduced a program into the educational curriculum of local schools. By educating the younger generation, they aim to foster a greater understanding of the issue and promote more responsible behaviors in the future.
Madhya Pradesh's Innovative Approach
Madhya Pradesh's comprehensive and multi-sectoral strategy in combating antimicrobial resistance is a commendable example of effective coordination and systemic planning.
Collaborative Approach: MP took on the difficult task of bringing together diverse departments, including animal husbandry, fisheries, farmer welfare and agricultural development, labor, medical education, public work and environment, and health and family welfare, in drafting its state action plan. This cross-sectoral collaboration has been crucial to the success of the program.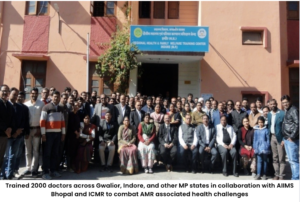 Human Resource Development: MP's State Quality Cell facilitated training for about 2,000 healthcare workers across the state with the support of AIIMS Bhopal and the Antimicrobial Resistance Surveillance and Research Network of the Indian Council of Medical Research.
Animal Health: The state veterinary department is supporting the provision of veterinary laboratories in 22 districts for culture and sensitivity assessment related to animal health. Efforts are being made to test animal foods for illegal antibiotic residues. Also, they are planning to develop a state antibiotic policy for the Department of Animal Husbandry, which will be the first of its kind in the country.
Auditing and Monitoring: The state is conducting a human health prescription audit with the support of the Atal Bihari Institute of Good Governance, Bhopal, to measure gains in antimicrobial stewardship practice (AMSP).
The Andhra Pradesh Department of Drug Control Administration has prepared a draft plan to combat Antimicrobial Resistance (AMR) and submitted it to the state government for approval. They are currently engaging global expertise and multi-sectoral stakeholders to develop key performance indicators and strategies, setting a path to become a model for AMR management across India.
Global Success Stories: The United Kingdom, the Netherlands, and Ghana
The United Kingdom has established a comprehensive strategy to combat AMR. A key component of this strategy is the Antibiotic Guardians Campaign. This campaign encourages individuals and organizations to pledge their commitment to responsible antibiotic use. Since its inception, it has secured over 11,000 pledges.
To bolster healthcare professionals' arsenal against AMR, the UK introduced the TARGET Antibiotics Toolkit. This resource equips professionals with guidelines for appropriate antibiotic prescribing, decision aids, patient information leaflets, and audit templates, fostering a culture of responsible prescribing.
In promoting research and development (R&D) in the field of antibiotics, the UK's National Health Service (NHS) launched the world's first 'subscription-style' payment system. This pioneering initiative assures a steady income to pharmaceutical companies for their innovative antibiotics, thereby mitigating the financial risks associated with antibiotic R&D.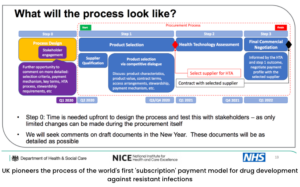 Similarly, the Dutch government's strict regulations on antibiotic use in animals have led to a substantial reduction in antibiotic usage. The Netherlands achieved a 64% decrease in antibiotic consumption in animals between 2009 and 2017.
The Dutch government's commitment to combating AMR extends beyond its borders, as they recognise that AMR is a global challenge. The Netherlands has invested in multilateral AMR R&D programs, like the Joint Programming Initiative on Antimicrobial Resistance (JPIAMR), a global collaborative platform that unites 28 nations to fund research and shape international strategies against AMR.
In the African continent, Ghana's strides in combating  AMR are underpinned by strategic action in surveillance, monitoring, and R&D.
A noteworthy example of this model is Ghana's collaboration with academia and ADMER, playing a critical role in generating and disseminating crucial data on antimicrobial resistance. Concurrently, Ghana established the National Antimicrobial Resistance Surveillance System in collaboration with the World Health Organization. This system tracks antibiotic usage and resistance patterns in both the human and animal health sectors.
Furthermore, the country's Food and Drugs Authority actively implements a Post-Market Surveillance system, overseeing the distribution and sale of antibiotics. This ensures the prudent use of antimicrobial agents, further helping in the fight against AMR.
Ghana established the Center for Antimicrobial Resistance and Surveillance at the University of Health and Allied Sciences, dedicated to understanding resistance mechanisms and creating innovative diagnostic tools and treatments. Additionally, the Fleming Fund promotes national AMR surveillance and international research collaborations.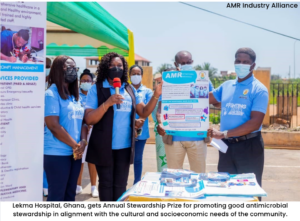 Engagement with civil society organizations and the media has been pivotal in carrying the AMR messages to the public, with deliberate training and briefing to ensure fact-based reporting and limit sensationalism.
These specific examples from around the globe provide a roadmap for how proactive and targeted action can combat the silent pandemic of AMR.
Tackling AMR demands concerted, innovative, and diverse strategies. It is a collective responsibility that calls for the participation of all segments of society. As the experiences of these Indian states and countries demonstrate, addressing AMR is a challenging but not insurmountable task. By learning from these success stories, we can pave the way towards a future where antibiotics continue to save lives.
References and further reading:
---